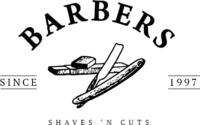 Slim has been cutting for over 20 years. He started as a teenager with his Tio (uncle) Chato who took him under his wing and taught him everything he knows. He pursued a basketball career after high school playing for the Air Force under contract. He picked up the craft again and decided to attend barber and cosmetology school to offer every possible service at TBL. When he's not squeezing you in last-minute, he enjoys traveling with his family and buying SHOES!
Joining our team in September of 2018, Chandler has made a great addition to the team. His willingness to continue to learn even after the years he has under his belt is admirable. Chandler graduated from Midland High School and pursued a professional golf career before starting barber school. When he is not taking walk-ins, Chandler still enjoys golf tournaments and spending time with his family.
Tracy has been cutting for MANY years, but we won't bore you with numbers. He became quite popular while serving our country as the go-to barber. After MANY years of service, he retired from the military and attended barber school. He enjoys a challenge with hair concerns and can definitely educate each client with regard to their concerns. When he isn't taking walk-ins, Tracy enjoys running around after his 2-year old son.